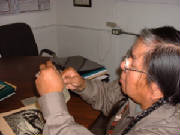 ©Photo: Anne Morin, 2009
THE FOLLOWING TEXT WAS ADDED TO THIS PAGE WITHOUT MY KNOWLEDGE OR CONSENT. SOME OF THE INFORMATION IS UP-TO-DATE; SOME IS NOT. IF THAT PERSON WOULD GET IN TOUCH WITH ME, WE COULD WORK TOGETHER TO SOLVE THIS VERY SERIOUS PROBLEM. SINCE I PAY FOR THIS SITE, I THINK IT WOULD BE A GOOD THING IF WE COULD COOPERATE. THIS INSERTION HAS CAUSED ME A LOT OF DIFFICULTY AND HAS COST ME A GREAT DEAL OF MONEY. PLEASE STOP DOING THIS AND CONTACT ME AT RAVESANDHOWLS@YAHOO.COM. I CAN NO LONGER CHANGE THE CALENDAR ON THIS SITE AS I AM CONCERNED ABOUT THIS PROBLEM. PLEASE CONTACT ME. THANK YOU.
Acclaimed poet, performer, traditional storyteller and lecturer on Northwest tribal culture, consultant to the Smithsonian Museum of the American Indian, and recipient of a national Endowment for the Arts grant, Ed Edmo conducts writing workshops, storytelling performances, and informational lectures.
A Native American with Shoshone-Bannock-Nez Perce tribal affiliation, Ed served as a consultant to the Native American architects of the Smithsonian Museum of the American Indian. Ed narrated the production "Children of the Raven" for the Eugene Ballet Company. He's performed his play, "Grandma Coke Cherry" at a number of places including Fishtrap in Wallowa, Oregon, and at the Newberry Library in Chicago, among many other places.
In 1995, Ed joined the Eugene Ballet Company's world tour performing "Through Coyote's Eyes: A Visit with Ed Edmo," in Syria, India, and Jordan. Ed adapted the Klickitat legend, "Bridge of the Gods" for the Tears of Joy Puppet Theatre in 1997, with a National Endowment for the Arts Grant, marking his success in playwriting. In 1998, Ed taught "Legend as Drama" at the Longhouse of Evergreen State College.

Edmo's poetry, short stories, and plays have been published in: A Nation With-In, Outrigger Press, Hamilton, New Zealand, 1983; These Few Words of Mine, Blue Cloud Quarterly, Marvin, South Dakota, 1985; "After Celilo" Talking Leaves, Dell, New York, N.Y., 1991; "Walking On Water" Headwaters, A Leftbank Book, Blue Heron Press, Hillsboro, Oregon, 1994. "Through Coyote's Eyes: A Visit with Ed Edmo" took first place at the Interstate Firehouse Cultural Center play festival, 1990; "Raintee: The Play" won a staged reading, 1986. His poem, "Indian Education Blues" appears on Tri-Met Busses in the program Poetry in Motion, 1997 and in stone at The Valley Library, Oregon State University, Corvallis, Oregon.
Ed has been going to Coffee Creek Women's Penitentiary with Red Lodge on a regular basis, doing suicide prevention.
He conducts writing workshops and performs his one man theater pieces throughout the United States.