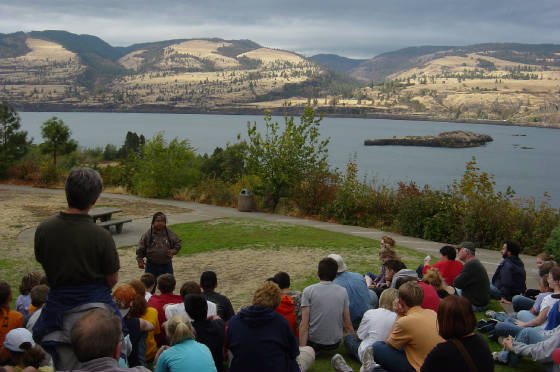 Join me on an unforgetable journey down the Columbia Gorge of Oregon, as I talk about the history of the river and our people, the disturbing effects on our culture and our ancient salmon fishery at Celilo Falls with the building of the Dalles Dam, and the enduring traditional stories that, nevertheless, keep our people alive and thriving.

 

I enjoy guiding groups of students and adults to the petroglyphs on the Columbia River Gorge, where I talk about the history and significance of the gorge to the Native people who have lived and fished for salmon there for centuries.

(Photo: Anne Morin, 2005)

 

Celilo Indian Village and Celilo Park are located about 90 miles east of Portland, Oregon. There, you can visit the longhouse and hear stories about the salmon, the people of the river, and the survival of a culture.

(Photo: Anne Morin, 2005)

PETROGLYPHS AND PICTOGRAPHS

This site is of high significance to the Native people of the river. "She Who Watches" (Tsagagalalone) is one of about 100 pictographs in this area. Due to vandalism in 1992, access is limited to guided tours on Fridays and Saturdays (April through October). The tour is not too strenuous, and many elementary school groups as well as groups of elders take it each year.

(Photo: Anne Morin, 2005)
To arrange a time for this tour, contact me at:
Music: "Ou Na Winasha" - Performers Nico Wind Cordova, Karen Kitchen, and Mel Kubic-Bondy (piano); Marv Ross - Producer.