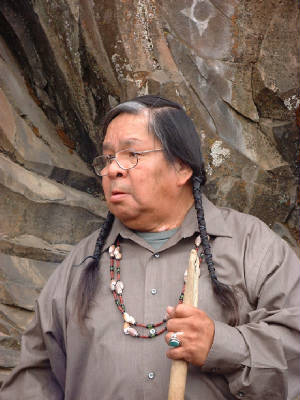 Welcome to my web site! Here, you can learn more about who I am, what I do, and how, if you are interested, you might use my services.

I'm a Shoshone-Bannock poet, playwright, performer, traditional storyteller, tour guide and lecturer on Northwest tribal culture. I offer guided tours to the She Who Watches petroglyphs on the Columbia Gorge, as well as to the Warm Springs Indian Reservation in central Oregon's high desert country. I conduct workshops, traditional storytelling performances, dramatic monologues and lectures on such issues as cultural understanding and awareness, drug and alcohol abuse, and mental health. I enjoy working with both children and adults in educational or other settings. I am a published short story writer, poet and playwright, and I serve as a consultant to the Smithsonian Museum of the American Indian. I live in Portland, Oregon, with my wife, Carol, my son, John, and my daughter, Se-ah-dum and her daughter.
Important Notice!!!
Carol Edmo recently had a serious stroke and has now left hospital and rehab and is at home. You can learn more, donate food or money by sending donations to PayPal to FAMILY (shows as J.Alan Enterprises). You can contribute feed via Velocity Jack at 971) 212 8809. Thanks! Anne Morin, Webmistress for Ed's site.
IN OUR THOUGHTS TODAY: Granddaughter Siale!
ED IS CELEBRATING HIS 67TH ON THE 16TH! HAPPY BIRTHDAY, ED!