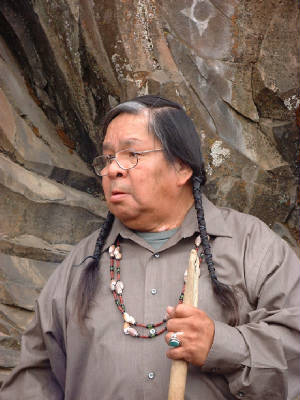 Welcome to my web site! Here, you can learn more about who I am, what I do, and how, if you are interested, you might use my services.

I'm a Shoshone-Bannock poet, playwright, performer, traditional storyteller, tour guide and lecturer on Northwest tribal culture. I offer guided tours to the She Who Watches petroglyphs on the Columbia Gorge, as well as to the Warm Springs Indian Reservation in central Oregon's high desert country. I conduct workshops, traditional storytelling performances, dramatic monologues and lectures on such issues as cultural understanding and awareness, drug and alcohol abuse, and mental health. I enjoy working with both children and adults in educational or other settings. I am a published short story writer, poet and playwright, and I serve as a consultant to the Smithsonian Museum of the American Indian. I live in Portland, Oregon, with my wife, Carol, my son, John, and my daughter, Se-ah-dum and her daughter.
IN OUR THOUGHTS TODAY: Granddaughter Siale!
ED IS CELEBRATING HIS 67TH ON THE 16TH! HAPPY BIRTHDAY, ED!